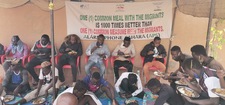 Saturday, December 26, 2020 corresponds to the end of a pilot experiment of collective kitchen dedicated to African nationals in mobility but stopped in their momentum in the city of Agadez in Niger. Indeed, since 04 July 2020 the transnational network "Alarme Phone Sahara or APS" has initiated assistance to migrants victims of the consequences of Covid 19 resulting from the closure of land, air and sea borders for some countries. Affected and living in great despair, APS has tried to provide a conjectured response through the offer of the collective kitchen thanks to the benevolent financial support of other organizations pursuing the same goal.
The ceremony on the last Saturday of December 2020 was attended by about thirty nationals of Côte d'Ivoire. It is appropriate to recall that the said community is at its second meeting to share the kitchen solidarity. This 28th kitchen closes the pilot phase of this activity that can be described as original. In the sense that it allows the poor and mobile people to meet and share a hot meal. This opportunity for exchange is also a framework for reunions from several angles: getting to know each other, exchanging news from the region and elsewhere, eating at least once a week to satiety, and giving testimonials of the challenges of mobility.
The 28th kitchen is coming to an end just a few days before the New Year 2021. On the threshold of this decisive turning point in life, it has been a great opportunity for mutual addresses of best wishes.
The plural team of APS takes advantage of this moment to present to all, and to migrants exclusively, a good and happy New Year 2021 in the hope that it can bring full respect for human rights and those of the free movement of people and goods by putting an end to the dreaded policy of externalization of borders that the European Union and its local valets in Africa like to spread in violation of all regulations in force.