News and reports tagged with Gemeinschaftsküche
Besucher der Kollektiven Küche, unter ihnen ein Musikkünstler, teilen ihre Ansichten und Erfahrungen:
Seit Juli 2020 organisiert das Team des Alarme Phone Sahara (APS) in Agadez/Niger mit großem Engagement jeden Samstag eine Gemeinschaftsküche für Migrant*innen, die derzeit in der Stadt Agadez leben.
Die Gemeinschaftsküche ist eine praktische Antwort auf eine Situation, in der viele Migrant*innen und Flüchtlinge in Niger gestrandet sind, und täglich unter sehr prekären Bedingungen um ihr Überleben kämpfen. Diese ist durch die weltweite Coronakrise noch extrem verschärft worden.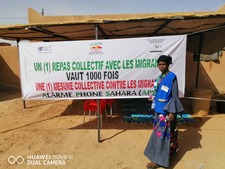 Beteiligt euch mit einer Spende, damit die Arbeit der Gemeinschaftsküche für Migrant*innen in Agadez weitergehen kann!