News and reports tagged with Aps
The kitchen has become an important structure for the APS to get in touch with migrants.
Since July 2020, the team of Alarme Phone Sahara (APS) in Agadez/Niger has been organising with great commitment every Saturday a collective kitchen for migrants currently living in the city of Agadez.
The collective kitchen is a practical answer to a situation in which many migrants and refugees are stranded in Niger and struggle for survival every day under very precarious conditions. This situation has been extremely exacerbated by the global corona crisis.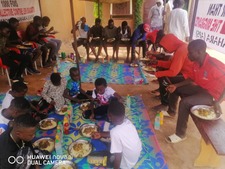 The Collective Kitchen of Alarme Phone Sahara in Agadez / Niger invites migrants and orphans together for a Christmas dinner - a celebration in the sense of human solidarity:
Originally from Nigeria, Roukayat is about 30 years old. She has lived outside her native country, settling in Tripoli (capital of Libya) since 2018, working as a housekeeper in an indigenous family. Her situation began to worry her about 8 months ago, she explains. Fallen ill and without assistance, she decided to return home. She arrived on September 04, 2020 in Agadez, Niger where Alarme Phone Sahara (APS) received the alert on the case of this young lady whose future is rocking between life and death and left to herself in a bus station.
On September 08, 2020, a Nigerian national came to the APS office to inform about the case of Roukayat who would be in a bus station in the area and suffering from general fatigue, cough and nausea. Having been prosecuted and arrested in the past with a sentence of 12 months in prison, the informant did not want to take the risk of dealing with Roukayat's case personally to avoid falling into the trap of the intelligence services that enforce Law 036-2015 in force since 2016 in Niger. However, his duty to assist prompted him to turn to APS. The APS team went to the station mentioned above in the company of the informant for translation in case the woman had communication barriers.