Posts tagged with Kawar
The Kawar Alert Team through the alert were able to rescue Ismael Karawi.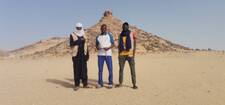 With the aim of research and of improving the work of Alarme Phone Sahara on the ground, a mission took place to visit Dirkou, Bilma, Latai and Siguidine in the zone of the Kawar desert in the North of Niger, a zone crossed by many migrants and travelers. The region is also known for its dangerous risks on the migration routes and many migrants have lost their lives and been burried in the Kawar desert.