Practices of active solidarity, which should not be forgotten even in times when the corona crisis seems to overshadow everything: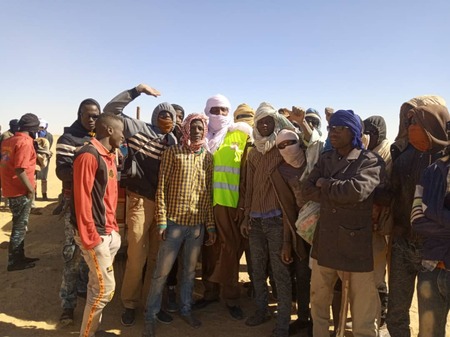 Persons saved with assistance of APS team on 12th of March 2020
The limited means available to "Alarm Phone Sahara" do not diminish the commitment of its members to the point where they will not be able to act on behalf of migrants in distress while crossing the Sahara Desert.
Elhadj Laouel Taher, the APS whistleblower stationed in the department of Bilma had braved the dangerous environment of this geographic space without landmarks to go in search of a young driver who had left Gatron in Libya to go to Dirkou in Niger 5 days before. The young driver was alone in the vehicle and had taken leave of his family living south of Gatron.  During this time, there was no news of him. The search was then started and on 12th of March 2020, Elhadj Laouel Taher's team left Dirkou in the direction of Gatron. A similar mission left Gatron for Dirkou.
In the course of this search, the mission finally reached a result of 38 people rescued - although at the moment, the driver who had left Gatron has not been found yet.
During the journey, on 12th of March 2020, Laouel Taher's team found a first migrants' vehicle with a broken tire. The 30 passengers were rescued by the team's assistance. The passengers on board are safe and sound and one of them wanted to show his group's gratitude to APS. They were taken to the Mafrouss well located 350 km from Dirkou, between Madama and Dao Toumi (video).
Statement of a man saved with the assistance of APS team on 12th of March 2020
On 13th of March 2020, another Hilux 4 X 4 vehicle carrying 8 people had an accident near the Mafrouss well before the people were found and also taken to the well by the APS rescue team. The injured people were given the possible moral and psychological assistance and had their vehicle repaired (photos). After these rescue actions, Elhadj Laouel Taher's team continued its journey to Gatron in Libya.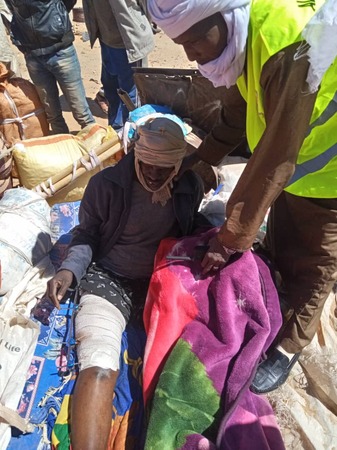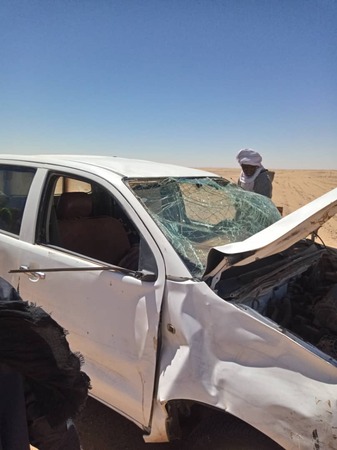 Injured persons saved with the assistance of APS team after accident in the desert on 13th of March 2020
For all the actions taken, the soldiers stationed at Madama in Niger were informed of the tragedy. The "International Organization of Migration" (IOM) is also notified through the APS mission as an organization with more means of information, explained LA Laouel Taher.
Migration from South to North continues to claim victims as APS deploys its expertise to make the voices of those in distress heard. More grandiose actions are possible across the Sahara Desert to save lives. The only thing it lacks are substantial resources. APS remains faithful to its principles of awareness raising, documentation and rescue of migrants and people in distress within the limits of its means.
Chéhou Azizou