New deportation convoys from Algeria into the desert border zone on 21st and 23rd of March 2021. At least 137 civilian persons murdered in the Tillia region in Niger.
In the last days we received again the information from the whistleblowers of the Alarme Phone Sahara about two other huge deportations from Algeria to Niger: One more official and one non-official mass deportation have taken place.
On Sunday, the 21st of March, 601 migrants from several Sub-Saharan African countries, among them 10 women and two girls, have been deported and left in the border area between Algeria and Niger in the middle of the desert and forced to walk 15 to 20 kilometers to the border post of Assamaka as it happens usually to people being deported in unofficial deportation convoys from Algeria. The biggest groups on this deportation convoy were 180 people from Mali and 199 from Guinea Conakry, besides them 46 people from Ivory Coast, 40 from Sierra Leone, 33 from Burkina Faso, 24 from Cameroon, 23 from The Gambia, 11 from Senegal, 16 from Sudan, 9 from Liberia, 6 from Benin, 6 from Niger, 3 from Nigeria, two from Ghana, one person from Egypt and one from Guinea Bissau. 
Two days later, on Tuesday the 23rd of March, another convoy from Algeria arrived with people being deported by force. This time, the main part of the migrants were Nigeriens, among them 917 men, 66 women, 94 minor boys and 87 minor girls. In addition to them other migrants from sub-Saharan Africa: 23 people from Tchad, 9 from Benin, 5 from Nigeria, 3 from Burkina Faso, 3from Mali, 2 from Togo, one person from Ghana and one from Liberia. Once again, a total of 1,211 people were deported violently and against their will by the Algerian security forces. The high number of minors among them shows one more time the disregard of children's rights by Algerian security forces. According to Human Rights Watch, migrant children in Algeria had already been separated from their families and deported alone in previous deportation operations in October 2020.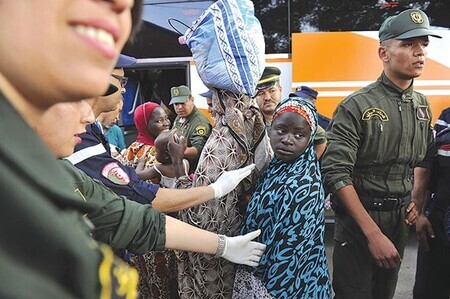 Algerian security forces deporting migrant women (photo from end 2019/early 2020)
©Louiza Ammi/Liberté
Almost 5000 people deported within March 2021. Unconfirmed report about migrants killed in bus accident. 
All these occurrences must be seen in the context of the last days and weeks and must be scandalised! On 5th and 11th of March, at least 1,054 people have been deported. Moreover, another 2,098 people arrived at the border post at Assamaka on 14th and 16th of March after being deported from Algeria according to the whistleblowers of Alarme Phone Sahara. Plus, sources from Gao in Mali also report the arrival of 125 deported migrants coming from the Algerian-Malian and Niger-Malian border between the 18th and 20th of March.
According to the "Association Agir Ensemble pour lutter Contre l'Immigration Clandestine (AAECC)" (Association Acting Together to Fight Clandestine Migration) from Algeria, one out of the 82 buses on the deportation convoy that left Algiers on 12th of March had an accident on the road, killing 60 of the people who were to be deported. This shocking news has so far not been confirmed for sure.
Niger hit by a murderous terror campaign
All this happens at a time while Niger is hit by a murderous terror campaign. On Sunday, 21st of March, at least 137 civilian persons have been murdered in a coordinated attack on several villages in the Tillia region near the border of Mali. It is unacceptable that the Algerian authorities are deporting thousands of persons into a dangerous and unstable situation in Niger where the lives of people are threatened by ruthless murderers!
We want to emphasize and shout out again some of our demands to stop these anti-human, racist and deadly border policies:
Alarme Phone Sahara calls for an immediate end to deportations and pushbacks of refugees and migrants from Algeria to Niger - no war on refugees and migrants!
Alarme Phone Sahara calls for an end to acts of theft and violence by Algerian security forces against migrants and refugees!
Alarme Phone Sahara calls for an end to the externalisation of European borders on African soil!
Instead of deporting thousands of people into an unstable and dangerous situation in Niger, we call for solidarity with the people of Niger and all migrants living on the soil of Niger to protect their lives against the authors of the present murderous terror campaign and to help creating the conditions for a peaceful future in Niger!