On 1st of March 2022, Elhadj Malam Sidi, whistleblower of Alarme Phone Sahara from Séguédine, found a vehicle lost in the Sahara desert and, 8km from the vehicle, the body of the deceased driver. This tragic scenario was discovered 45 km northwest of the well of Achigour located 130 km from the town of Dirkou in northern Niger.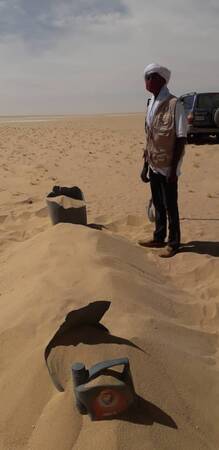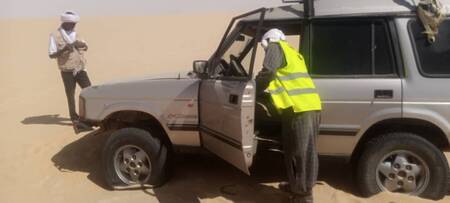 Grave of dead driver in the desert
Together with Laouel Taher, team leader of Alarme Phone Sahara in Bilma, Elhadj Malam Sidi was able to help trace and identify the identity and provenance of the deceased based on documents found in the car.
These documents and the GPS coordinates were handed over to the local Gendarmerie who were able to contact the owner of the car and find out that the deceased driver was a local vendor who was on his way from Djado to Agadez. The exact circumstances of his death are not yet clear, but it is believed that he was disoriented until he died in the desert.
Alarme Phone Sahara's whistleblowers buried the body of the deceased in the desert because of his already advanced state of decay.

The tragic death of this driver in the desert shows once again the great risk for passengers in the desert. For migrants on desert routes, the danger is further increased by the fact that due to the presence of patrols and checkpoints and the criminalisation by law 036-2015, drivers transporting migrants often take remote routes where one risks getting lost without being found in case of distress.
Alarme Phone Sahara's whistleblowers, based on their abilities, are ready to help rescue migrants and other desert passengers in case of distress to prevent more people from dying in the desert.