New protest against the management by the IOM in Niger
On Monday 19th of September 2022, a group of more than 100 Senegalese migrants registered at the IOM transit camp in Agadez started to march from Agadez to Niamey on the Agadez-Tahoua road. They were protesting against IOM's management of their situation and demanding their return to Senegal after months of waiting and being blocked.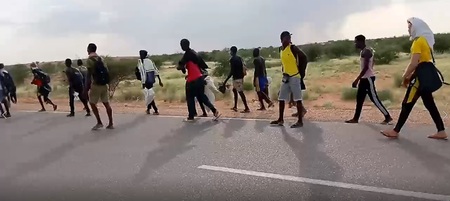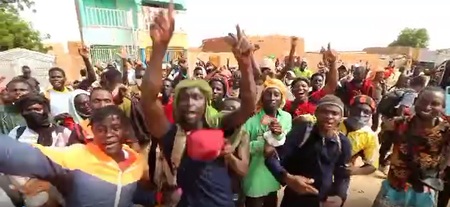 Senegalese Migrants start marching from Agadez to Niamey in protest against IOM's management
© Alarme Phone Sahara
Like thousands of other migrants and refugees of different nationalities, these Senegalese people were stranded in Niger in very precarious living conditions where they no longer see any prospects for continuing their migration journey. Some of them have already suffered deportation or forced return from Algeria or Libya in conditions of violence and serious human rights violations. It is in this precarious situation that they decided to return to Senegal, their country of origin, through the IOM, which promised to take care of their so-called "voluntary" return.
In addition to the poor living conditions in the IOM camp, the protest was finally triggered by the fact that the IOM had not kept its promises to return to Senegal for months, but repeatedly postponed the announced departure. When on 19th of September, the departure was cancelled again at the last minute, the migrants decided to start walking.
Following the protest, the IOM promised a definite departure on 22nd September. According to information from the Alarme Phone Sahara team in Agadez, 113 of the Senegalese migrants could leave by plane in the meantime, but some were still left in Agadez.
The Nigerien TV channel "Canal 3" followed the march of Senegalese migrants in Agadez on 19th of September 2022 and interviewed participants:
Statements by participants of the march to "Canal 3":
"We were at the IOM. It's been more than 3 or 4 months. We suffered a lot there. There are promises that we no longer understand. Since the 5th of last month, when the IOM promised us a date, the 5th of July, we had to leave to go back to Senegal. They promised us and it's a false promise. We are more than 160 Senegalese people here at the IOM camp. They gathered us all there, when on the 9th we had to leave. On the 9th, until the morning, they told us that there was a technical problem. We understood everything. We Senegalese don't know how to do violence. Even if someone does violence, we call everyone, we calm them down. They promised us again on the 12th, it became like that, the same thing. On the 13th again the same thing.
Now they promised us again on the 19th, that was today. They have already confirmed it to the Senegalese government. The IOM confirmed the 19th, that date of the 19th we were supposed to leave this morning. Until today, in the morning, they started to tell us it's not possible, it's until 22nd. We're fed up!"
"Now we are tired. Now, what do we want: We want to go home. Even if we are going to die on the street, we want to go home because we are fathers. Even I left four children behind. How many months has it been? Six months. It hurts!"
"We had a mission. And our mission is to walk from here to Niamey. It's about 1000 and some kilometres, if I'm not mistaken. Our problem is not a problem with Niger, we don't have a problem with Niger. We live in the same culture with the Nigeriens. Niger and Senegal are brotherly countries. They are countries that are part of ECOWAS. So I also call on the Senegalese community to take its responsibilities."
Other impressions of the Senegalese migrants' march on 19th of September 2022 in Agadez,  filmed by the Alarme Phone Sahara team in Agadez:
Repeated protests over serious shortcomings in IOM's handling of migrants in Niger
The march of Senegalese migrants in Agadez on 19th of September 2022 is the latest in a series of protests by migrants and refugees against the poor living conditions in IOM camps in Niger and the poor and unreliable implementation of IOM's so-called "voluntary return" programmes.
On 27th and 28th of August 2022, there were already migrant demonstrations around the IOM transit camps in Arlit and Agadez. Among others, a group of Malians addressed Malian civil society and the transitional government of Mali with a video statement asking for help to return home.
On several occasions, there have been protests by migrants and refugees in IOM and UNHCR camps in Niger in recent years.
The background of the discontent and protest in the facilities of these international organisations is always the same: being stuck in Niger in bad living conditions and without prospects of getting out. And, in addition, the IOM does not even keep its promise of a so-called "voluntary return", which it usually promotes as the central element of its policy, to the countries of origin.
Solidarity with migrant and refugee protests in Niger
Alarme Phone Sahara (APS) declares its solidarity with the protests of migrants and refugees in the IOM and UNHCR camps and with their legitimate concerns.
We condemn the European policy of externalising the border regime and closing borders and migration routes, which is one of the main reasons why many thousands of people are stranded without prospects in an impoverished country like Niger.
In view of the current situation, we also condemn the fact that the IOM, in spite of the considerable budgets it receives, is not ready or able to ensure at least dignified living conditions for the people it is mandated to take care of and to reliably organise return programmes for those who, for lack of other prospects, are desperately waiting for a so-called voluntary return.   
Alarme Phone Sahara calls on IOM and its donors
Provide sufficient resources to enable decent living conditions for all migrants and refugees in need of assistance in Niger!
Accommodation and care must not be dependent on submission to a so-called "voluntary return"!
For those who want to return to their country of origin of their own free will, they must be given the necessary assistance to return in dignified conditions!
Instead of spending millions of Euros to close borders and prevent migration by force, respect the freedom of movement of people and invest in saving lives on the migration routes and creating safe travel routes for everyone!
Alarme Phone Sahara also calls on African states, especially ECOWAS members, to take steps to seek solutions for all people stranded on migration routes and defend their right to live in dignity and their right to free movement, instead of following the directives imposed by the outsourcing of European borders!