Maman Na Hajau arrived in Assamaka, on the Algerian-Nigerian border, with a group of 683 people deported from Algeria in an "official convoy" on 27th of July 2020. He was interviewed by Oumarou Hadi, Alarme Phone Sahara (APS) alert person in Assamaka: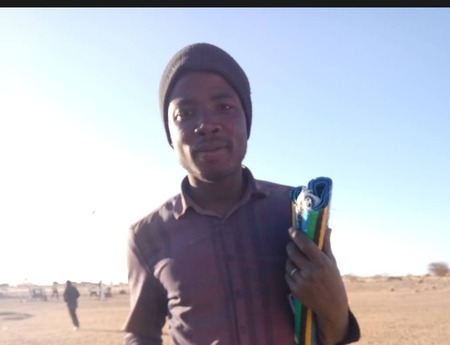 "I am Maman Na Hajau from the Zinder region. Thank you for your welcome in Agadez. We have lost a lot of our belongings and our energy on Algerian territory.
I was beaten up by the police in the city even before they took me to the site where they were packing together many people of various nationalities. We spent almost 10 days in prison. We only ate a bit of "la vache qui rit" cheese with some bread once a day. If today you have eaten in the morning, you have to wait until tomorrow at night. They transported us to Assamaka in buses where the authorities of Niger loaded us into animal transport vehicles packed like parcels. I had never been in such a vehicle before.
From today on, I don't even wish my enemy to have to go to Algeria because of what reality has shown me. In Agadez, alhamdulillah, you welcomed us well. My only final word: I ask the authorities to compensate us for the loss of our property in Algeria. I have only the clothes I'm wearing."