17.10.2023: 20 migrants in distress rescued in northern Niger on the road between Dirkou and the Libyan border.
On 17 October 2023, Laouel Taher from the Alarme Phone Sahara team in Bilma assisted a group of 20 migrants from Niger who were stranded in the desert after their car broke down on the road between Dirkou and the Niger-Libya border. The 20 people were returning to Niger from Libya. Laouel Taher had found them in distress when he was travelling for a private mission in Libya. He helped them repair their car, gave them a 60-litre can of water and shared advice from Alarme Phone Sahara.
An important detail: The migrants in distress drew attention to themselves by lighting a large fire in the desert as a warning signal and to indicate their position. According to Laouel Taher, this method is often used by migrants in distress on Niger's desert routes.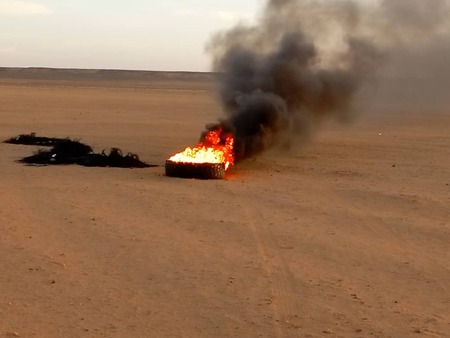 Fire of hope lit in the desert of northern Niger by migrants in distress, 17.10.2023
©Alarme Phone Sahara
As Alarme Phone Sahara, we congratulate the rescue of the 20 people in distress and the initiative of our whistleblower Laouel Taher to come to their aid.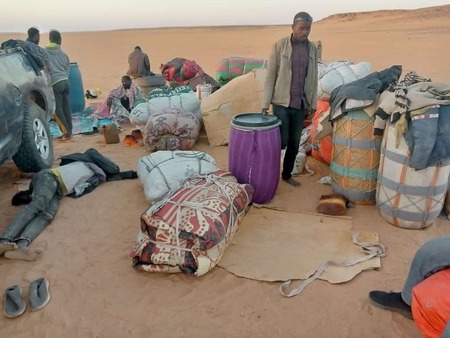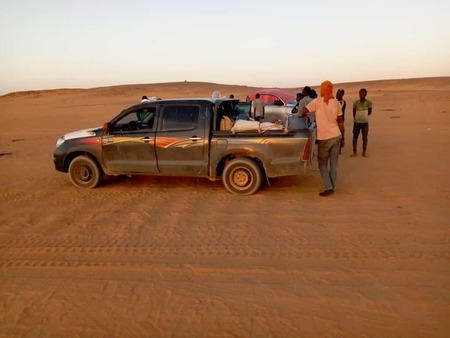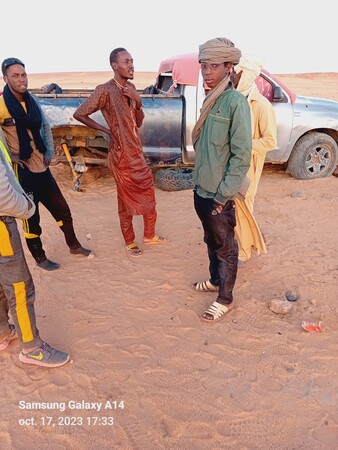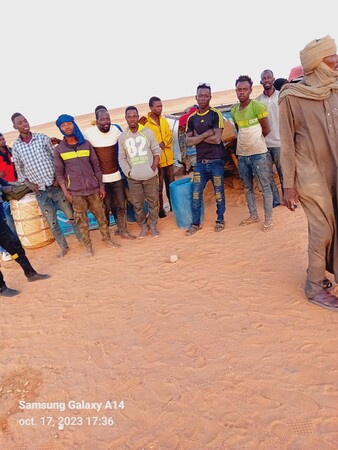 Assistance for people on the move in distress in the desert by Laouel Taher of Alarme Phone Sahara, 17 October 2023.
©Alarme Phone Sahara
We also congratulate all those in distress in the desert who use fire as an effective alert signal to save their lives, and encourage anyone travelling through the desert to be prepared to use this method of fire in an emergency!
Light fires of hope in the desert to help save your life in the event of distress!
Further more, Alarme Phone Sahara continues to demand :
No to closed borders and travel routes that increase the risk of death in the desert!
Safe and regular travel, migration and escape routes for everyone!