On 4th of January 2020, a UNHCR refugee camp in Agadez, Niger, was set on fire after a police crackdown on a peaceful sit-in protest of mainly Sudanese refugees who had been in front of the local UNHCR office since 16th of December 2019 when they had left the camp collectively. Hundreds of refugees were arrested, being accused of having set fire on the camp after the police had disbanded their sit in protest and brought them back to the camp by force. According to a report in The Guardian from 4th of February 2020, however, refugees insisted the blaze was started by teargas fired by Nigerien police forces.
According to a report on Air Info from 23rd of February 2020, the court trial against 111 asylum seekers at the High Court (Tribunal de Grande Instance) of Agadez ended with 2 persons sentenced to one year suspended prison sentence and 109 persons sentenced to 6 months suspended prison sentence for accusations of, among others, "unauthorized assembly" and "degradation of public buildings".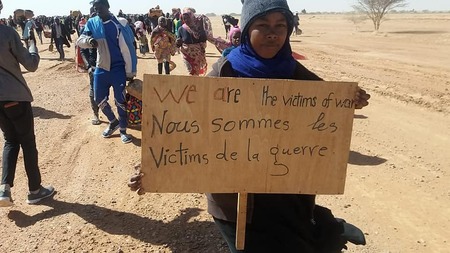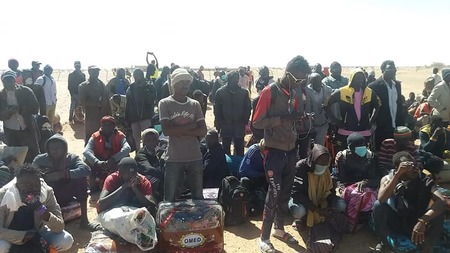 People marching from the camp to the UNHCR office

Source of photos: Aïr Info and Alarme Phone Sahara Agadez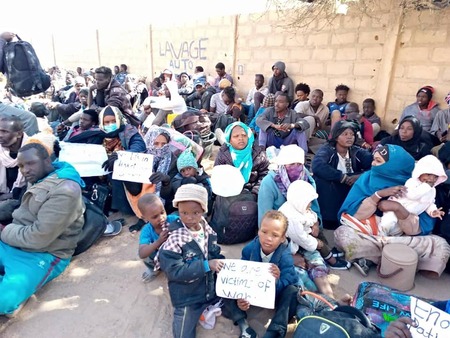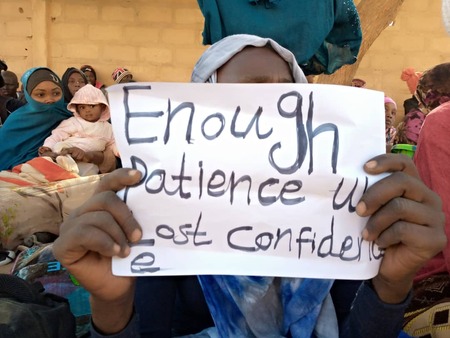 Peaceful sit in protest at UNHCR office in Agadez
Source of photos: Aïr Info and Alarme Phone Sahara Agadez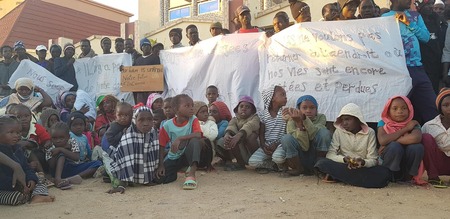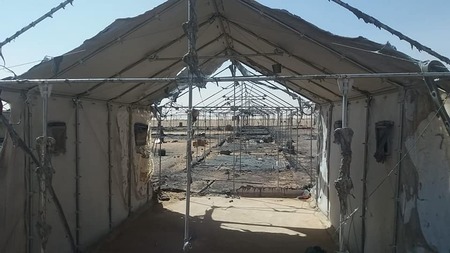 Peaceful sit in protest at UNHCR office in Agadez             UNHCR camp set on fire after police crack down
Source of photos: Aïr Info and Alarme Phone Sahara Agadez

In the beginning, hundreds of asylum seekers had been arrested, with figures ranging from 355 persons according to the Nigerien authorities (see Guardian report) and about 453 persons according to the independent Sudanese radio station Radio Dabanga. After one month, on 4th of February 2020, about 200 persons were still held in prison according to refugee activist Hamada Mohammed, quoted by The Guardian.
The Guardian also reported that "Sudanese refugees in Niger say they have been living in an atmosphere of fear and intimidation after security forces cracked down on protests calling for better living conditions.
Refugees have been sleeping in the desert despite low temperatures since their camp in Agadez was almost completely burned down last month after a sit-in was forcibly dispersed by Nigerien security forces.
(…)The refugees have accused the UN's refugee agency, UNHCR, of neglect. They also deny the agency's claim that they burned their own tents in protest.
(…)A statement circulated by Sudanese activists, "Save the refugees in Niger", accused UNHCR officials of "aligning with the Nigerien government".
(…) Refugees say the camp has remained in the same condition since the fire. They shared photographs showing charred tents, and say they have been sleeping in the open, using blankets and fires built from dried bushes to keep warm. (…)"
Several statements point out that repression against asylum seekers in Agadez has been aiming at crushing the movement of refugees who have been in protests for moths against their bad living conditions, against the way the UNHCR and Nigerien authorities have been handling their cases so far and against the general situation of being stuck in refugee camps in Niger without any perspective for a better solution.
"The Nigerien forces right now are using fear and intimidation against the refugees because of our humanitarian demands," said refugee activist Hamada Mohammed, quoted by The Guardian.
The Guardian further quotes a humanitarian worker in the camp who "described the treatment of the refugees since the fire as group punishment" and who also testified that most of the people who were arrested "were still in front of UNHCR when the camp was burned". 
According to various reports, those who were arrested had to face serious abuse and denial of their rights.
As The Guardian quotes, "There are no humanitarians, there's no one doing anything for us in this difficult situation," said a Sudanese refugee who was arrested and who did not want to be named. He was released after several days but said those remaining in jail are living in cramped conditions. "The guards don't turn on the lights and there are no windows. The people inside are stuck there in the heat, crying."
And according to Radio Dabanga, one of the detainees told that "the detainees have got no defense lawyer to defend them. They were arrested during the police breaking up the sit-in in front of the UNHCR headquarters. He explained that they were interrogated by police without the presence of defense lawyers. (…) He confirmed that the members of the media committee of the sit-in have being subjected to very degrading treatment, and they face a series of continuous investigations and interrogations. He also confirmed the deportation or relocation of nine of the detainees to an unknown place."
Further reading:
Niamey, 13th of November 2019: sit in of Sudanese refugees in front of UNHCR headquarters
Niger: Sudan refugee sit-in violently dispersed
355 Sudanese refugees arrested in Niger as camp destroyed by fire
Detained Sudanese refugees in Niger 'subjected to inhumane and degrading treatment'
Sudan refugees pushed into Niger desert after camp burned down
Faced with this situation of disarray skillfully orchestrated on people who are only looking for a better life, Alarme Phone Sahara (APS) thinks:
-That the court decision by the High Court (Tribunal de Grande Instance) of Agadez against 111 refugees must be revised, as the trial has taken place under conditions of arbitrary arrests, serious abuse and denial of rights and the 111 asylum seekers who were sentenced must be freed from charges.
On the other hand, APS believes that solutions must be sought that respond to the desperate situation of the people in the UNHCR camps in Niger.
-Instead of accusing and prosecuting people who are already in a vulnerable situation, it would be fairer to analyse the situation dispassionately and see to what extent the slowness of UNHCR in processing asylum applications and the complicit silence of the Nigerien authorities during weeks of peaceful protests by asylum seekers in Agadez and the forced evacuation of the sit-in on 4th of January 2020 caused the situation to deteriorate until the camp was burnt down. Claims of refugees that the blaze was in fact started by teargas fired by Nigerien police forces should also be taken into consideration for futher investigations.
 - There must be rapid and acceptable results for refugees in Niger in their asylum procedures and also resettlement in safe third countries for those who wish to do so.
-Alarme Phone Sahara encourages civil societies in Niger and at the international level to stand in solidarity with asylum seekers who are stranded in Niger. We must act together against a petty migration policy imposed by European states with the aim of closing the borders between Africa and Europe while preventing people fleeing war, persecution and misery on African soil from going where they can hope to live in safety.