Regular mass deportations from Algeria to Niger continue during the month of August 2021. With at least 1711 people deported on 3rd, 25th and 27th of August 2021, the number of people deported since the beginning of 2021 increases to at least 16580 people.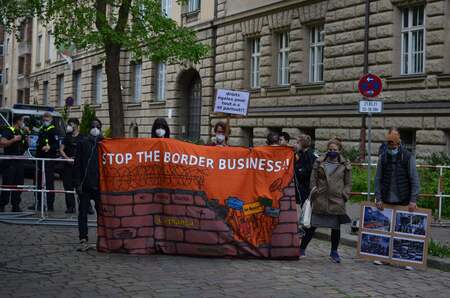 Protest at the Algerian embassy in Berlin, 21st of May 2021

The deportations are taking place in violent conditions of disregard for human beings, often putting the lives of the people being deported at risk. In Niger, one of the most impoverished countries in the world, many of the people being deported are stuck in miserable conditions.
"Non-official" deportation convoy of 25th of August 2021
According to the observation of Alarme Phone Sahara whistleblowers, 590 people deported from Algeria in an "non-official" deportation convoy arrived at the Assamaka border post on 25th of August 2021. Among them were eight children of minor age. As on previous occasions, the largest groups of deportees were nationals of Guinea Conakry, who numbered 144, and nationals of Mali, who numbered 158.
Besides them, there were again citizens of many different countries of Subsaharean Africa: 110 from Sudan, 30 from Sierra Leone, 26 from Ivory Coast, 17 from Cameroon, 31 from Benin, 20 from Senegal, 15 from Burkina Faso, 21 from Nigeria, 2 from Ghana, 1 from Guinea Bissau, 1 from Liberia, 1 from Tchad, 4 from Togo and 2 from Central African Republic. 
Regularly, people in "non-official" deportation convoys are left in the border area between Algeria and Niger, in the middle of the desert. With this practice, the Algerian security forces always put the lives of the deportees at risk: The deportees have to walk between 15 and 20 kilometres through the desert in order to reach Assamaka, the first Nigerien village after the Algerian border. Hungry, dehydrated, and it is feared that many will not make it, if people are lost in the desert.
Official deportation convoys of 3rd and 27th of August 2021
According to the whistleblowers of Alarme Phone Sahara,134 people, including three minor boys, were deported from Algeria to Nigerin an official deportation convoy on 3rd of August 2021.
Another 987 people, most of them citizens of Niger, who were being deported from Algeria in an official deportation convoy, arrived at the Assamaka border post on 27th of August 2021. Among them were 81 minor girls, 75 women, 86 minor boys and 745 men. Again, a worrying aspect is the high number of 167 underage children among the deportees, taking into account that there were regular reports of child abuse and separation of children from their parents in the deportation convoys from Algeria to Niger.
Deportation agreements and externalisation of borders
Deportations from Algeria to Niger take place on the basis of a bilateral agreement signed in 2014 for the deportation of Niger nationals, many of whom live in Algeria in a context of often seasonal migration. However, the Algerian state also takes advantage of this to deport numerous nationals from other countries, especially from Sub-Saharan Africa, in "unofficial" convoys, and so far the Niger authorities lack the power or the will to stop this practice.
After the traumatic experience of deportation from Algeria to Niger, many deportees remain stranded in IOM camps in Arlit or Agadez, but also in unofficial "migrant ghettos" and on the streets of Niger's cities. Numerous testimonies relate the miserable living conditions of these people. This is why civil society organisations, such as Alarme Phone Sahara, have taken practical assistance initiatives to alleviate the misery of this migrant population.
However, the deportations from Algeria to Niger, the human rights violations by the Algerian security forces and the precarious living conditions of the migrants stranded in Niger must also be seen in the context of the policy of externalisation of borders by EU countries, which have agreements with Niger to help close migration routes and which also collaborate with Algeria, among other things, in the form of the delivery of large capacities of military vehicles and "security" technology.
In view of all this, Alarme Phone Sahara continues to requests:
⦁ An immediate halt to the deportations and pushbacks of refugees and migrants from Algeria to Niger and other neighbouring countries!
⦁ The cancellation of the deportation agreement between Algeria and Niger!
⦁ An immediate halt to the deportation of children and the separation of children from their parents!
⦁ An end to acts of theft and violence by Algerian security forces against migrants and refugees!
⦁ The commitment of the state of Niger to defend its citizens who suffer persecution, human rights violations and deportations in Algeria!
⦁ Truth and clarification from the Algerian state on what really happened in the deportation convoys that left Algiers on 12th and 25th of March 2021, especially if it is true that people were killed in bus accidents!
⦁ Algeria and Niger must stop collaborating with the policies of outsourcing European borders on African soil and taking military and security materials to use against the migrant population!