The testimony of Mounchili, a migrant whom Aziz Chéhou, coordinator of Alarme Phone Sahara (APS), met at the APS office in Agadez, spending 2 days with him.
"My name is MOUNCHILI Mohamed Moustapha. I am a young man of 23 years old. I am a football fan and football player. I left school at a very young age with a primary level. I struggled in my country Cameroon. I was a vehicle cleaner and a small peddler selling eggs and sardines that I carried on a table on my head throughout the day. I used to walk the streets of Koutaba in the Noon region of western Cameroon until I made the decision to venture out on the difficult migration routes. These small jobs allowed me to make small savings to start a better life, outside my country of course. Migrating is an integral part of my life. My parents are in fact migrants. My dad is now in the country of my birth, but my mother is still migrating. My situation is identical, with a few exceptions, to that of thousands of Africans. I started my adventure in 2015. It is becoming an illusion and a nightmare today in 2020. »
It is with these words that he begins to tell his story as an adventurer and a migrant.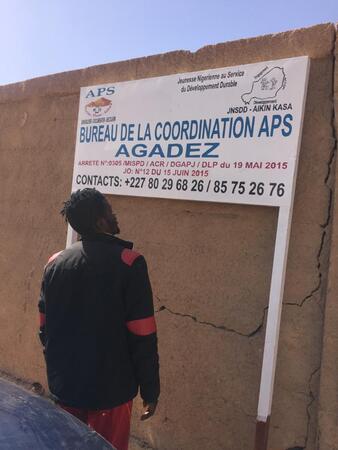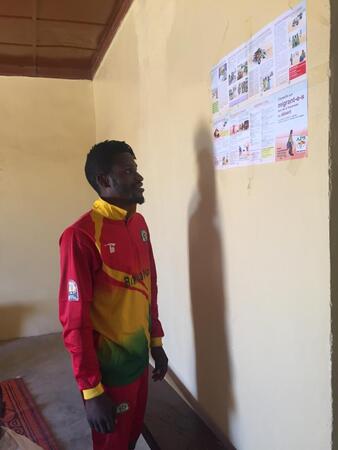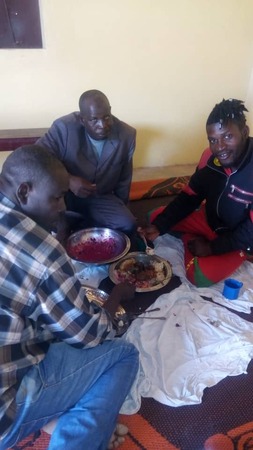 "My presence outside the Algerian city of Oran began on 21st of December 2019."
His experience has enabled him to cross several African borders. MOUNCHILI is part of the wave of sub-Saharan nationals deported back from Algeria. He is caught on his way to work on 21st of December 2019 without any further trial. He was deported from Algeria one week before the meeting in Agadez without any financial resources or clothing. His mobile phone is snatched in Algeria before he is deported to the border to a place commonly known as "point zero" in a convoy of more than 400 people. For four years, he has been living and earning his living in Oran where he was taken to be embarked with other migrants in 4 buses with 70 seats each. Along the way, the convoy grew to 21 buses. None of the migrants had the chance to leave with their savings. The young MOUNCHILI lost 4 years of savings before arriving at the Algerian-Nigerien border at around midnight to walk 15 kilometres towards Assamaka, a village in the desert in the north of Niger. This is the beginning of an endurance test.
Going from point zero to the locality of Assamaka involves great risks.

The journey from the "point zero" is difficult, assures MOUNCHILI. "Once we got off the trucks, we were directed to a small light. The group scattered because of the different objectives that each one had in mind. While some are fed up with the mistreatment they are suffering in Algeria and agree to return to their homeland, others do not see themselves returning to relive the chaos."

It was under these conditions that the group dispersed, walking in all directions. Young and physically well, he is part of a group of 5 people to reach Assamaka around 4am. But, this journey still remains in his mind for having heard gunfire resounding behind him as he started his walk towards the small light "hope". What an aberration is life when a man is forced to renounce his rights, otherwise the worst is to be expected!
Witness of gunshots fired
MOUNCHILI still remembers the gunshots he heard behind him without knowing exactly what the men in uniform were shooting at. Tired at the entrance to Assamaka, he fell asleep. When he woke up, there were more than 300 other migrants snoring around him. They were in the shed of the International Organization for Migration (IOM) which works in Assamaka. The returnees are sorted in this shed and divided into groups according to whether the interviewee has travel documents or not. During the interviews he learned that the shootings of the day before had hit three migrants of Nigerien nationality who were members of the same convoy as him. The victims had allegedly tried to return to Algeria and had concealed valuables that the law enforcement officers must have noticed. Before continuing his journey on Nigerien territory, he could not say whether these persons were alive or not. But it is certain that the number of migrants disembarked at ground zero was greater than the number who arrived in Assamaka. Would those who do not answer the call be lost in the vast desert as they move through the night? Would they be overcome by fatigue? Are they alive? These questions still resonate in his mind.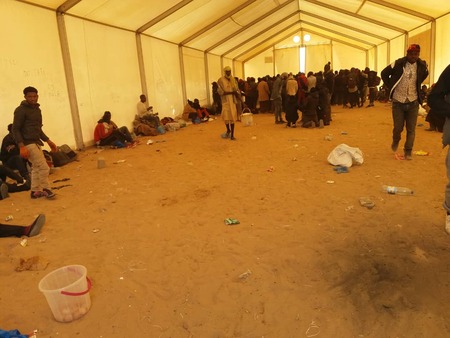 Shed of IOM at Assamaka
"My wish is to lift the mask on the myth of migration."
"I want to speak out loud when victims speak in a low voice. I have had terrible experiences in my life as a migrant, including my arrest and deportation from Algeria. This means that I find myself like many of my African brothers who were deported after being arrested on my way to work on a public transport bus. For the never-clear purposes of Western powers and policies, people like me are deprived of their universal rights. The leaders of our countries are watching like puppets as this injustice is done to us. In the name of international law, we should put an end to this dehumanization of migrants along migration routes."
With a desperate gesture of his arms, the dreamer of success based on migration still considers himself happy to reach Niger, where good willing people have offered him the clothes he wears.
Many young people like MOUCHILI suffer the injustice of the contemporary world. How many of them are ready to denounce such human rights violations. Torture, racial discrimination, deaths, disappearances and many other abuses commonly inflicted on migrants are a secret that the young Cameroonian promises to share in due course. For now, the main concern is to return to his country and rethink his life.
Aziz Chéhou, Alarme Phone Sahara coordinator