Alarme Phone Sahara condemns the racist treatment of migrants and refugees by the Maghreb states and their collaboration with the European border regime
With the relaxation of measures against the Covid-19 pandemic, African countries have also reopened their borders to travellers and goods. Alarme Phone Sahara (APS) deplores the fact that this normalisation is also accompanied by an intensification of deportations and pushbacks. During the days of late September and early October 2020, more than 2500 citizens from various sub-Saharan African countries were victims of a new wave of deportations from Algeria and Morocco.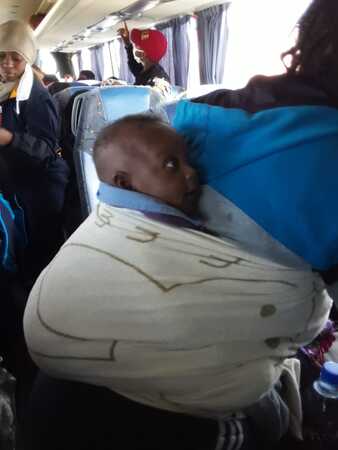 A woman deported from Morocco to Senegal with her baby
                                              on the bus transporting them to the airport of Dakhla 
New deportation convoys from Algeria to Niger
According to the online newspaper Algérie Éco, the Algerian Interior Minister Kamel Beldjoud announced in a parliamentary plenary session on 30th of September 2020 that more than 1,500 so-called "illegal" migrants have been deported to Niger.
This statement corresponds to the observations of Alarme Phone Sahara (APS) whistleblowers who confirm the arrival of 2427 people deported to Assamaka at the Algerian-Nigerien border in just six days between 30th of September and 5th of October.
According to these observations, 494 citizens of Niger, including 115 girls and underage boys, were deported on the 2nd of October in an "official convoy" agreed between the Algerian and Nigerien authorities. In a second "official convoy" on 5th of October, there were even 957 people deported from Algeria. They are all citizens of Niger except 5 persons from Mali and this time there were 283 underage girls and boys, 154 adult women and 550 adult men among the people who were deported.
On the other hand, 976 people, including two girls and two underage boys, all nationals of many different sub-Saharan African countries plus one Pakistani, were deported on 30th of September and 2nd of October in "unofficial convoys", which means without the direct involvement of the Nigerien authorities. According to APS whistleblowers, 332 of the group of people who had been deported already arrived in Agadez on 4th of October and all the others were on their way in buses between Assamaka and Agadez. Arriving in Agadez, the people who have been deported are put in camps managed by the IOM. 
Minister Beldjoud said that the deportations were carried out "voluntarily" and "in accordance with international agreements and conventions (...) related to the respect of human rights and dignity".
However, the experience of recent years shows that systematic violence and ill-treatment are regularly perpetrated by Algerian security forces on the people concerned during mass deportations from Algeria to Niger. In addition, people deported in "unofficial convoys" are usually left in the desert in the border area 15 or 20 kilometres from Assamaka, putting their lives at risk in case they get lost in the desert. It should also be considered that Assamaka, where the IOM reception post for deportees is located, is a small place in the middle of the desert which lacks the possibilities to meet basic human needs such as water, food, shelter, showers and toilets, etc., especially in hot and cold periods.
The Algerian state and its migrant hunting policy
For several years, there have been regular mass deportations from Algeria to Niger on the basis of a bilateral agreement signed in 2014. The victims are citizens of Niger, many of whom live in Algeria in a context of often seasonal migration, but also people from many other sub-Saharan countries who are often deported with "unofficial convoys". 
The latest wave of deportations comes at a time when the Algerian state has just set up an inter-ministerial commission under the supervision of the Minister of the Interior to combat so-called "clandestine" migration. The "complementary measures" announced by the minister include joint police and gendarmerie roadblocks on border roads, the demolition of "anarchic dwellings" housing migrants, such as sheds or construction sites, the dismantling of migrant reception networks and the automatic confiscation of means of transport. 
This kind of declaration of war against migrants in Algeria follows the Algerian authorities' interest in reducing the number of migrants and satisfying racism within the indigenous society. So far, the Algerian state does not have official agreements with the European Union on migration, but indirectly positions itself as a reliable guardian for the border regime of the EU states. In this sense, the Algerian military and police also receive large quantities of military and security goods, such as surveillance technology or Mercedes-Benz vehicles.
Morocco: Deportations to Senegal, Guinea and the Algerian border
At the same time, Hassane Amari, a human rights activist based in Oujda, Morocco and involved in Alarmphone Watch the Med, among others, reported large-scale deportations to Senegal and Guinea during late September and early October 2020.
Amari points out that these deportations took place in collaboration between the Moroccan authorities and the Senegalese and Guinean embassies. Among others, 28 women were deported to Conakry. According to reports in the Senegalese media, 144 Senegalese, apparently survivors of the sea crossing, were deported on two flights from Dakhla in southern Morocco. They had reportedly tried to leave by boat for Europe - probably for the Canary Islands - and were pulled out of the sea off Dakhla when the attempt failed.
In addition, Hassane Amari reports that migrants and refugees were recently deported from the cities of Tangier, Nador, Rabat, Casablanca and Elhoucima to the Moroccan-Algerian border at Tiouli in the Jerrada region 60 kilometres from the city of Oujda. According to Amari, 157 people were deported to the border from the beginning of July until the end of September 2020, among them 9 women, 11 minors and 7 injured people. Such deportations of people arrested in the country's big cities to the Algerian border have been carried out many times in Morocco over the years, among other things to prevent them from leaving for Europe.
In just a few days, Morocco and Algeria have deported at least 2599, or perhaps even more, nationals from many different countries, mostly African. Alarme Phone Sahara condemns these deportation practices and racist violence in the Maghreb countries and their direct and indirect collaboration with the border regime of European states.
Alarme Phone Sahara calls for an end to all deportations and pushbacks and for the respect of human rights and freedom of movement for all migrants and refugees!