Official and non-official mass deportation convoys from Algeria to the border of Niger are continuing in March 2021. According to the whistleblowers of Alarme Phone Sahara, at least 1054 people have arrived in March only at the border post of Assamaka after being deported.
Unofficial deportations convoy on 5th of March 2021
According to Alarme Phone Sahara's whistleblowers, 237 people, among them 8 women and one minor girl, who had been deported in an unofficial convoy arrived on foot in Assamaka at the Algerian-Nigerian border on 5th of March 2021 after the Algerian security forces had dropped them in the border zone.
As in other unofficial convoys, the victims of these extra-legal deportations are nationals from many different countries in sub-Saharan Africa: The biggest groups 63 people from Guinea Conakry and 52 from Mali. Also 21 persons from Ivory Coast, 22 from Nigeria, 20 from Sierra Leone, 11 from Niger, 12 from Sudan, 10 from Cameroon, four from the Gambia, 6 from Senegal, 2 from Tchad, one person from Benin and one from Liberia.
Usually, people deported in unofficial convoys are left in the border area between Algeria and Niger in the middle of the desert and forced to walk 15 to 20 kilometers to the border post of Assamaka. With this practice, the Algerian security forces put the lives of the deported people in danger, risking them getting lost in the desert. Already in 2018, the state of Niger had asked Algeria to put an end to these deportations of non-Nigerian nationals, but to no avail, so that deportations in unofficial convoys continue on a large scale.
Most of those deported from Algeria to Niger end up in IOM camps in Agadez, where many remain stranded if there is neither the possibility of returning to their regions or countries of origin, nor the possibility of continuing their journey of migration.
Huge official deportation convoy on 11th of March 2021
On 11th of March 2021, the huge number of 817 people, among them 11 women and 16 minor girls and boys, arrived in Assamaka with an official deportation convoy. 755 of them were citizens of Niger, while 31 people are from Burkina Faso, 12 from Mali, 10 from Ivory Coast, frour from Guinea Conakry, four from Nigeria and one person from Equatorial Guinea.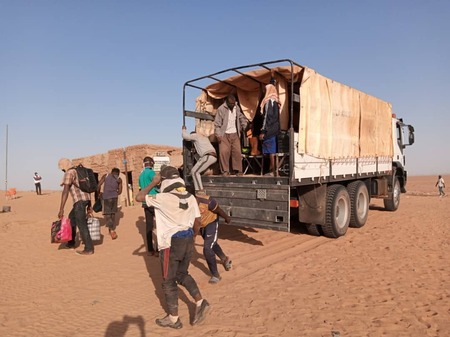 Image of a deportation convoy from Algeria to Assamaka, Niger, on 30th of September 2020. © 2020 IOM Niger
The Algerian state and its policy of persecution of migrants
The practice of raids and deportations from Algeria, which has been intensified in recent years, is accompanied by racist propaganda against seasonal workers from Niger and against people who depend on begging, and more generally against all migrants and refugees from sub-Saharan African countries.
The waves of raids, arrests and deportations in Algeria since September 2020 are a direct result of the "migration reform" and the creation of an inter-ministerial commission to fight "irregular migration", announced by Algerian Interior Minister Kamel Beldjoud at a plenary session of parliament on 30th of September 2020.
The "complementary measures" announced by the minister include joint police and gendarmerie roadblocks on border roads, the demolition of "anarchic dwellings" housing migrants, such as sheds or construction sites, the dismantling of migrant reception networks and the automatic confiscation of means of transport.
On the one hand, this kind of declaration of war against migrants in Algeria follows the Algerian authorities' interest in reducing the number of migrants and satisfying racism within the indigenous society. On the other hand, it is an opportunity for them to position themselves as guardians for the border regime of the European Union states. Although the Algerian state has so far refused to sign an official migration agreement with EU countries, its ruthless deportation policy will serve as an asset in the upcoming negotiations with European states on credits and economic cooperation in the face of the deep economic crisis.
In addition, cooperation already exists in the form of the delivery of large quantities of military and security goods for the Algerian army, police and gendarmerie, such as surveillance technology or Mercedes-Benz vehicles.
In the face of this ongoing drama:
Alarme Phone Sahara calls for an immediate end to deportations and pushbacks of refugees and migrants from Algeria to Niger - no war on refugees and migrants!
Alarme Phone Sahara calls for an end to acts of theft and violence by Algerian security forces against migrants and refugees!
Alarme Phone Sahara demands the cancellation of the deportation agreement between Algeria and Niger!
Alarme Phone Sahara calls for an end to the delivery of military and security goods to the Algerian state!
Alarme Phone Sahara calls for an end to the externalisation of European borders on African soil
Alarme Phone Sahara calls on the civil societies of the countries involved and concerned to resist deportations and pushbacks and to defend the lives, rights and freedom of movement of migrants and refugees!
Alarme Phone Sahara also calls on the authorities and parliaments of the countries concerned, among others Mali and Guinea, to support their citizens and speak out against the mass deportations from Algeria to Niger.