In Arlit, according to IOM figures, around 640 people, mostly migrants deported from Algeria, are currently stranded in the IOM transit camp. On 20th of April, people protested and revolted against the unbearable conditions in which they are currently living.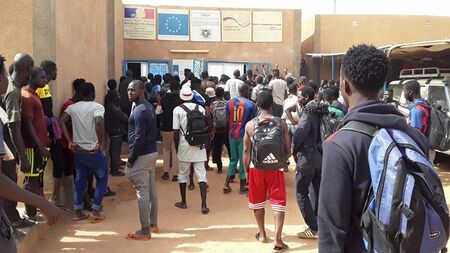 ©Fatma Ben Hamad, "Obesrvateurs France 24"
According to one of the migrants interviewed by journalist Fatma Ben Hamad for "Obesrvateurs France 24", their protest and revolt was due to the lack of dialogue with IOM officials, who manage the Arlit camp.
In the situation they are in, the people now want to return to their countries, including Mali, Nigeria, Guinea Conakry, Benin and Cameroon, but these countries, for their part, closed their borders during the Corona crisis. IOM, for its part, says it is not in a position to facilitate the return of migrants who are stranded in Niger at this time, but migrants at the Arlit camp point out that since their arrival, no IOM official has come to talk to them and their situation remains unclear.
© Corentin Bainier
According to the man interviewed by "Obesrvateurs France 24", the living conditions in the IOM camp are also unbearable: When they arrived from Assamaka, the migrants had no drinking water or mattresses and only four tents for more than 900 people. In addition, they had not received hygiene kits with soaps and towels, which is why upset people forced their way into IOM shops during their revolt to get the necessary supplies.
According to "Obesrvateurs France 24", the police reacted with repression: Tear gas was fired at the migrants, at least 13 people were arrested and taken to the police station, where they were still on 24th of April.