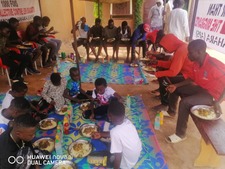 Since July 2020, the team of Alarme Phone Sahara (APS) in Agadez/Niger has been organising with great commitment every Saturday a collective kitchen for migrants currently living in the city of Agadez.
The collective kitchen is a practical answer to a situation in which many migrants and refugees are stranded in Niger and struggle for survival every day under very precarious conditions. This situation has been extremely exacerbated by the global corona crisis.
Make a donation to ensure the continuity of the activity!